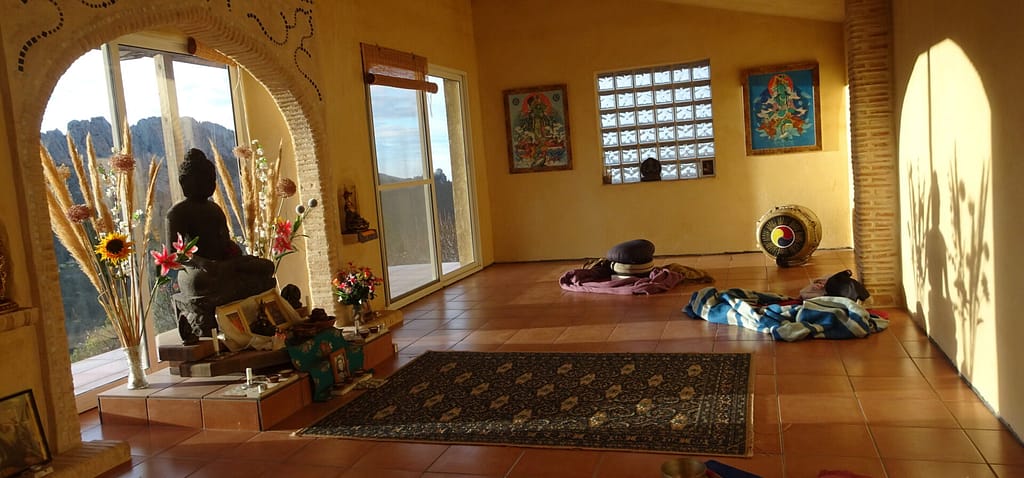 I haven't sent out any 'sketches' from Uttaraloka for some time. This is partly because I wanted to change the format of my e-mails – to include a few photos – and partly because I had been wondering about the content. I've previously mentioned that I was slightly uncomfortable about the way I was talking about meditation. It is said that talking out one's meditation is displeasing to the dakinis and I can understand why this is, but I wanted to think about it a little more deeply. I'm not sure that I've actually penetrated the subject to any great depth but I have got a bit more clarity and I will write about this in my next 'Sketch'.
In the meantime here is a little news from Uttaraloka.
Uttaraloka Autumn Retreat
Originally four men booked for the 2020 autumn three-month retreat but eventually they all cancelled for one good reason or another. But then four more men asked to come and stay for various periods of time. So, in the end we had an autumn retreat. It was a bit ragged with folks coming at various times, for various periods. Vasubandhu came at the end of September and stayed until just before Christmas; Keturaja came in mid October and stayed until mid January; Janaka came for the month of November; and Vajranatha was here from early December to mid January. But the retreat has gone as well and as ever. Everyone has appreciated Uttaraloka – the isolation, the beautiful wild scenery, the comfortable facilities, the exquisite shrine room, and the opportunity to just be. Though, having said that, quite a lot of work has been done – from laying new tiles on the casita floor, to harvesting the olives and pruning the almonds; Vasubandhu has planted new fruit trees and an array of cactii as well as building defenses against the inevitable attacks of wild goats and boar. Keturaja runs off into the mountains for an hour or so several times a week and successfully set himself the goal of collecting all the remaining bits of junk that lie around the property; Vajranatha has been writing a section of his biography which he read to us on a few evenings as well as practicing just sitting doing nothing for an extended time every morning; Janaka has been painting the landscape in watercolours as he did when he was here a couple of years ago.

All this is activity has been contained within a schedule of five to six hours of meditation a day, a puja most evenings, quite long periods of silence, and a little study and chapter type meetings a couple of evenings a week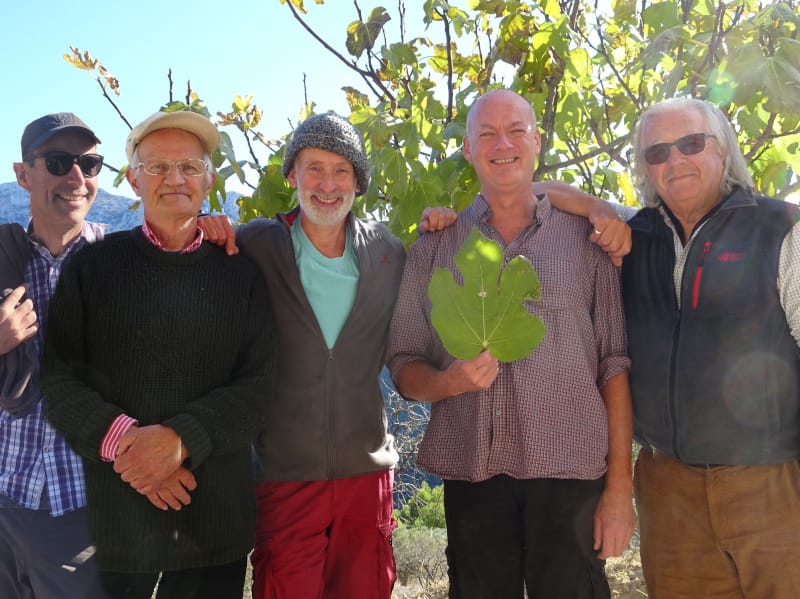 As a permanent resident of this lovely place I am not really on retreat because I am at home. I think that a retreat is when you go away from your habitual context although the popularity of virtual retreats challenges this assumption. I know that many people who live in retreat centres discover that they are not really on retreat most of the time – but they can support and engage with the spirit of retreat. So, I continue to discover what I am doing here. I've recently become the Caretaker (and Abbot) of Uttaraloka which means that I have to 'own' the place and take on responsibility for how it develops. I am a support community of one for the retreats, but I can also live a life that is largely insulated from many distractions. I am privileged to have the space to explore my inner world.
I have things to do for both Uttaraloka and Guhyaloka, and as the year came to an end I made sure that all the things were in place to secure my residence in Spain, now that the UK is no longer part of the EU. When you don't speak Spanish, the bureaucracy is difficult (some say it is difficult even if you do speak Spanish) so I have struggled at times with frustration, but although it has taken well over a year to get things sorted I am now fully resident, with a Spanish driving license, a car registered in Spain, and both Spanish and UK National Health Insurance. I feel very fortunate to be able to continue living in Europe.
How Brexit will affect visitors to, and especially potential residents of Guhyaloka and Uttaraloka we have yet to finally discover – although it is very difficult to see how anyone from the UK will be able to come to live at Guhyaloka unless they have a substantial private income. Guhyaloka is suffering from a perfect storm of difficult conditions. With Brexit restrictions limiting both visitors and potential community members; cancellations of all our retreats because of pandemic restrictions, denuded financial reserves; and even environmental concerns making people unwilling to fly; Guhyaloka's income and support community is at serious risk. We may see a radical change in the nature of Guhyaloka over the next year or two.
The Olive Harvest
This year we had a very good crop. The guys from Guhyaloka came over for a couple of days and Keturaja and Vasubandhu put several more days hard work into gathering the olives from the biggest trees – some of which produced 50Kgs of olives (I read from the internet that commercial trees produce about 5KG). In all we had 500Kgs of fruit to take to the local co-op press and they produced over 170 litres of oil. (Also much more per kilo than I expected) the oil is really delicious and we have 34 5-litre bottles)
We also collected 300Kg of finest Marcona almonds most of which we sold – for about 400 Euros. The olive oil we kept.